CyPria ~ A Printing App for Android-powered Mobile Devices
CyPria Paid Version, CyPria Free Version 1.4.1  Release (June 29, 2011)
  Promo Price Now! \300 JPY (until Sep 30, 2010)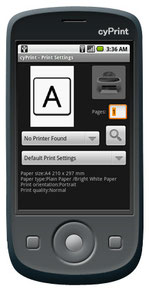 "CyPria (CyPria Free)" is an open platform printing application made for Android-powered mobile devices.  CyPria allows you to use your Android-powered mobile device to print pictures taken by camera, photos in gallery, Web pages, and notepad text directly from a Wi-Fi connected ESC/P-R supported EPSON printer, which CyPria will automatically detect by itself.
      Also, CyPria integrates its functionality into other 3rd Party Applications allowing you to print images and text from them as well. 
Main Features:
  - Print directly from your camera or notepad
  - Print multiple images on 1 page of paper by using "Index Printing".
  - Print multiple selected images consecutively by using "Multi-page print".
  - Print text/images on your CD/DVD by using "CD/DVD Label Lite".
  - Print web pages by using "Web".   (only paid version)
  - Print from an image's "Share" or "View" menu
  - Print from a text's "Share" menu
  - Print Borderless available
  - Print Template
     Notepad: 3 types, Index Printing: 16 types, CD/DVD 1 type
  - Automatic printer finder for supported (Wi-Fi enabled) EPSON printers
  - Register integrated applications to the launcher through user settings
  - Automatic CyPria launcher integration
  - Switching between an application's individual print settings
Restrictions (CyPria Free Version only):
     CyPria Free Version, in comparison to the CyPria (Commercial Version),
 will have the following restrictions:
  - Print Setting Features
     Borderless: Not Available, Number of Copies: Not Available
     Paper Size: "3.5x5 in / 89 x 127 mm", "10 x 15 cm (4 x 6 in)" only
  - Notepad Features
     Print Template: 1 type only, Font Size: 1 type only
     Printing Multiple Pages: 1 page only
  - Index Printing Features
     Orientation: landscape only, Rows/Columns: 2 rows/2 columns only
     Template: 2 types only, Photo Select: Up to 4 photos
  - Multi-page print Features
     Printing Multiple photos: 1 photo only
  - Web page print Features
     Web viewer only
 
Supported Language:
 -Japanese, English, Chinese (China), Chinese (Taiwan)
Application Type & Category:
 -Applications/Tools 
Price (CyPria Paid Version):
 - Regular price \450 JPY
 - Promo price Now! \300 JPY (until Sep 30, 2010)
Supported Printers:
 -Wi-Fi enabled Epson Inkjet (ESC/P-R supported) printer
| | | |
| --- | --- | --- |
| Artisan 700 | Epson Stylus Office BX305FW | EPSON STYLUS SX600FW |
| Artisan 710 | Epson Stylus Office BX310FN  | Epson Stylus SX610FW  |
| Artisan 725 | Epson Stylus Office BX320FW   | Epson Stylus SX620FW |
| Artisan 800 | Epson Stylus Office BX525WD   | Epson Stylus TX420W  |
| Artisan 810 | EPSON STYLUS OFFICE BX600FW | Epson Stylus TX550W  |
| Artisan 835 | Epson Stylus Office BX610FW | Epson Stylus TX560WD  |
| EP-802A  | Epson Stylus Office BX625FWD | PM-T960 |
| EP-803A | EPSON STYLUS PHOTO PX700W | PM-T990 |
| EP-803AW | Epson Stylus Photo PX710W   | PX-502A  |
| EP-901A   | Epson Stylus Photo PX720WD | PX-503A  |
| EP-901F  | EPSON STYLUS PHOTO PX800FW | PX-601F    |
| EP-902A | Epson Stylus Photo PX810FW | PX-602F    |
| EP-902F | Epson Stylus Photo PX820FWD | WorkForce 310 |
| EP-903A | EPSON STYLUS PHOTO TX700W | WorkForce 323   |
| EP-903F | Epson Stylus Photo TX710FW | WorkForce 325   |
| EpsonME OFFICE 560W  | EPSON STYLUS PHOTO TX800FW | WorkForce 520   |
| EpsonME OFFICE 650FN  | Epson Stylus Photo TX810FW | WorkForce 525   |
| EpsonME OFFICE 700FW  | Epson Stylus NX420 | WorkForce 545 |
| EpsonME OFFICE 900WD  | Epson Stylus NX515 | WorkForce 600 |
| EpsonME OFFICE 960FWD  | Epson Stylus NX625 | WorkForce 610 |
| Epson Stylus Office TX510FN  | Epson Stylus SX420W | WorkForce 615  |
| Epson Stylus Office TX515FN  | Epson Stylus SX425W | WorkForce 625  |
| Epson Stylus Office TX525FN  | Epson Stylus SX510W | WorkForce 630   |
| EPSON STYLUS OFFICE TX600FW  | Epson Stylus SX515W | WorkForce 633   |
| Epson Stylus Office TX610FW  | Epson Stylus SX525WD | WorkForce 635   |
| EPSON STYLUS OFFICE TX620FWD |   | WorkForce 840 |
|   |   |   |